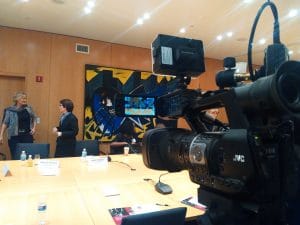 Dealing with the current coronavirus (COVID-19) restrictions on travel and with gatherings banned, holding a meeting or panel discussion is almost impossible. Euro-Pacific Digital Media has broad experience in shooting and live streaming events to your audience using a wide range of streaming media platforms like YouTube, Facebook Live, Twitch and more. You can still hold your panel discussion, live streamed, with questions asked via the comments section of the stream or on a platform such as Twitter.  Call us today to discuss the options for live streaming. Did I mention that it is very cost effective!
This week our client the University of Cologne's New York Office had a panel discussion with six international panelists and an invited audience of 200 scheduled to take place at the German Consulate in NY City. With the the encroaching corona-virus outbreak rapidly growing in NYC and with the government recommending that organizations cancel live events, on the morning of the event, the event organizers notified registered attendees that the discussion would be moved online and streamed.
Euro-Pacific Digital Media was contacted and asked to videotape and live stream the event on YouTube. The event went live at 7pm that evening without an audience, and questions were asked of the panelists via YouTube comments and on Twitter. More than 55 people logged in to view he 90 minute live stream and over 250 followed the event via Twitter. After the event, the video was posted to Vimeo and YouTube for later viewing.
Check out the copy of the live stream event Democracy and Education in the Age of Renascent Nationalism