Euro-Pacific Digital Media Services
How we work. We start with getting to knowing your business. We analyze your needs and sketch out a plan for your new website or video production. We then work with you to develop and maximize your opportunities. Through all stages of the development process, we'll work with you, whether for a small brochure website, a corporate web video, a custom website, or a full eCommerce store, we take care of it all!
Our experienced producers and production crew will work with you to capture your video on the latest digital camera packages, recording to Cinema 4K or 1080P HD digital media. Whether shooting for a web video, corporate video or TV commercial, we have a camera package to meet your needs, including the latest JVC LS-300 4K Cinema camera with prime lenses, the Sony and JVC 1080P HD XD-CAM broadcast formats. Full audio and LED lighting packages are also available. Call for our local production crew rates.
We also offer a full range of video livestreaming services, from small events to global corporate training and meetings. Streaming services are offered remotely and on location. We offer private, secure screening platforms such as Vimeo, or multicast to YouTube, Facebook, Periscope and LinkedIn platforms, simultaneously.
Euro-Pacific Digital Media uses Adobe Premiere Pro CC editing – a powerful 4K and HD video editor with integrated DVD authoring, surround sound audio processing, and thousands of amazing real-time effects. Its integrated tool set provides all of the tools needed to create high-quality productions and quickly output to web streams such as You Tube and Vimeo. We also offer Adobe After Effects and Adobe Character Animator to help enhance your web video or presentation.
Web Development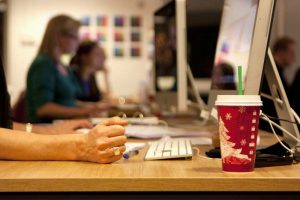 Euro-Pacific Digital Media offers professional website design and development, which enhances your business web identity by emphasizing clean and functional websites that reflect your brand and deliver the right message. From custom design to building on a template, we offer many options, including HTML5, Bootstrap, WordPress, Joomla, and PHP.
We understand how a particular color, or a symbol can make a difference to your company. Using the correct color combination and font selection, we help you establish your company's brand identity.
Before your new site goes live, our developers check every aspect of operation and user experience (UX) to deliver quality performance from day one. We also make sure that your website is secure from hackers with a SSL certificate and that the data your customers and clients enter on the site is encrypted and securely stored. If you are in the healthcare arena, we will also make sure that your site meets the HIPAA requirements for data collection.
In today's competitive world, search engine optimization (SEO) has become an integral part of websites, so we offer free basic SEO on all of the websites we develop. We also offer a more advanced SEO package, and full search optimization.
Full Digital Web Advertising Marketing Services
After we have completed your website, we'll work with you to create a market plan to promote your company on Google AdWords (we are a Google Partner), Microsoft Bing Ads, Facebook, Instagram, Pinterest and other advertising platforms.
Web Hosting
Euro-Pacific Web Services
offer powerful web hosting made easy, with
user-friendly control panels featuring cPanel® Hosting
that puts you in charge. And thanks to our award-winning data centers, lightning-fast load times, and 24/7 monitoring, you know your site will always be safe, secure and online – guaranteed. Our one-click install process has all your Web hosting app needs covered, making it easy to build, enhance, and manage your site.
Hosting is what makes it possible for others to view your website over the Internet. Without it, you're the only one who will ever get a look. Euro-Pacific Web Services offers…
One-click set-up
Unlimited storage and bandwidth
Scalability to fit your needs
24/7 secure monitoring