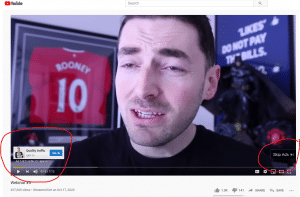 I often wonder why so many companies will host their videos on YouTube and have ads play on them, sometimes promoting competing products. I've even seen competing videos displayed on the screen when their video stops playing. It's a bit like putting a sticker on your business card for your competitor.
Until now ads have not shown on videos embedded on other sites, or if you don't sign up for the partner ads in your account.
As of November 18th ads will play everywhere. The new terms state:
"YouTube's right to monetize: YouTube has the right to monetize all content on the platform and ads may appear on videos from channels not in the YouTube Partner Program."
If you want to know how to better promote your company videos, without promoting your competitors, send me a message and I'll be happy to schedule a call on how to improve the visibility of your media online.